InjectionPower®, Repair Program for common rail injectors - Professional Level - Electromagnetic Module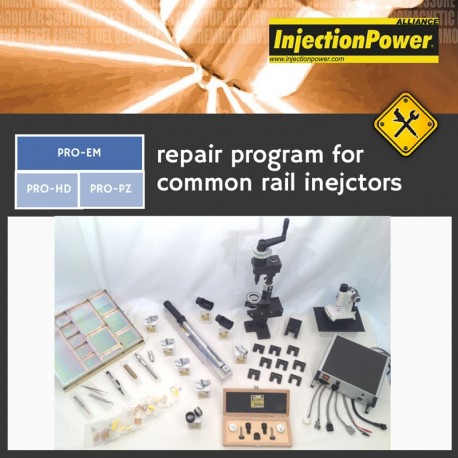 InjectionPower®, Repair Program for common rail injectors - Professional Level - Electromagnetic Module
The Pro-EM module includes the supply of specific tools for maintenance the Bosch, Delphi, Denso electromagnetic common rail injectors. In details:
- Universal operational station
- Torque wrench
- sockets for actautor and valves
- Tools for assembly / disassembly
- testing device for electromagnetic actuators
Application field

:

Common rail injectors


what you get
Special disassembly instrument 

Dynamometric wrench with adapters 

Electronic tester 

Lapping tools set Microscope


what you can do
Tool for the disassembly and the aligned mounting of the nozzle, by preserving the pins from breaking during the rotation of the nozzle nut for an accurate disassembling
 
To check the status of the electromagnetic actuator To make regular the conical surface 

To check the condıtıon of the conical surface and better defıne the repaırıng strategy
With InjPro-Em package can I operate on all common rail injectors?
With this package you can operate on common rail injectors equipped with electromagnetic actuator, installed on cars and commercial vehicles.
The additional Injpro-Pz and Injpro-HD will allow you to operate also on injectors equipped with Piezoelectric actuator and injectors installed on heavy duty vehicles.
With InjPro-Em can I also test common rail injectors?
In this package is contained the "Electronic tester to check the status of the electromagnetic actuator".
This device allows you to verify if the injector is working or not but the full test of the injector can be done only With DIT31 test bench, included in the InjCli-Basic package ( check next level CLINIC).