الشركة المصنعة للعلامة التجارية الأصلية (OBM)
إن شركة InjectionPower Srl تهتم بكامل إجراءات الإنتاج ، من التصميم والهندسة والتصنيع وسلسلة التوريد إلى التسويق.
تمتلك شركة InjectionPower Srl ماركات ومنتجات Deteq و Marbed بالكامل.

تقنيات الإصلاح
لحقن وقود الديزل
InjectionPower is the new benchmark for the diesel fuel injection aftermarket,
as result of the merger between:
1st class diesel tools
The special hand tools are essential to any diesel injection specialist, in order to get a well done repair, saving time an money.
MARBED is the well-known brand for the independent diesel fuel injection specialists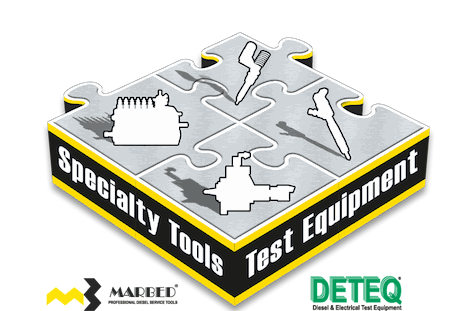 Innovative test equipment
Diesel power requires accuracy of measurements and high quality operations. DETEQ test equipment are designed with the operator as the center, because he has the responsibility of the done job with his Customer.
The synergies generated by this collaborative environment represent an extraordinary opportunity to the development of integrated solutions able to support and enhance the Diesel Injection Specialists' daily work.

Effective access to technical information, multi-brand diagnostic tools and test equipment, spare parts and training is crucial for the independent automotive aftermarket to provide million motorists with the quality services and parts they deserve for the aftermarket care of their engines.
While technological innovations provide better emissions control as well as more safety and comfort, they have made it increasingly challenging to service or repair a vehicle.
InjectionPower supports the Diesel Injection Aftermarket with Integrated Repair Programs for the common rail and conventional Fuel Injection Equipment.
Official vs Independent repairs
OFFICIAL OEM REPAIR


Exchange preferred
On-purpose Branded Equipment
Proprietary Procedures
High investments



INDEPENDENT REPAIR


Repair preferred
Independent Test Equipment
Skilled and easy Procedures
More competitive



the right to repair
The Independent Automotive Aftermarket is a huge contribution to the economy and society. It is important to support not only the right to repair for million motorists but most importantly, consumers' right to have their vehicles serviced, maintained and repaired at a workshop of their choice.